I am participating in a very fun party that every crafty/DIY blogger will want to get in on! 
Pin the tail on the bloggy!  Want to come along? Here is the button to take you there.  Shannon at Foxhollow Cottage and Debbie at Debbiedo's Blogging and Blabbing are the masterminds behind all this fun.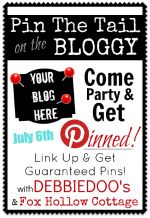 Click on the button, it will take you straight to the blogs, pin your project and pin two of the projects before you. 
Want to see what I am pinning? 
How to Make anything look like Real Wood
Can't wait to see all the fun that show up Pinterest!