Happy Monday friends.  I hope everyone had a lovely weekend.  We had gorgeous weather here in Northern California.  I spent the first half of the day doing laundry, supervising chores, (I will be at the happiest place on earth when you read this, running around, being happy). I didn't whistle while I worked, but when we were done, I got to step outside to my fabulous new workspace!!!!!  I will be sharing a Sneak Peek tomorrow at Trashy Tuesday, then the whole shebang will be revealed on Wednesday.
This post is all about tables, a small Table, a funky Table, and maybe the fact that I CAN learn from mistakes!
To begin, I don't know where I go this table, but it was cute.  I painted it in CeCe Caldwell's Vintage White, one coat, waxed it, and did a lovely Vintage White on top, with a glazed tint to make it look old.
The top was a heavy piece of tile.  In February, I loaded it in my car to transport it to Paris Flea Market for sale.  I contemplated removing the tile top, but shrugged it off, I was lazy, and figured I would drive carefully.  I did drive carefully, someone in front of me didn't.  About 5 miles to the shop, someone slammed on their breaks, I slammed on my breaks, and the table came tumbling down. I cringed as I heard the sound of breaking tile.  Cest la vis, it went on to live another life.
Photo courtesy of Google Images
Emma suggested sticking a basket in there instead!   I happened to have the perfect fit, dry brushed it with Martha Stewart's Gold Glaze, and off she went, better than before.  It sold at the March PFM sale too!
Next, I picked up this table for $10.  I just had to try to the stone thing again.
I went a totally different direction, we painted the entire piece with CeCe Caldwell's Georgia Clay, then topped it with CeCe's Destin Gulf Green (one of my most favorite colors).  For the stone top, I painted it with Modern Masters Copper Metal effects paint.  Then used the "Aging Spray" they make to actually make the metal age and oxidize.  It is hard to tell from this picture in full sun, but it came out pretty cool.  I sealed the entire piece with CeCe Caldwell's Clear Wax.  If you don't seal the metal effects paint after aging, it will continue to oxidize.
I added the fun Chrystal knobs from Cost Plus and off she went.  This time I did remove the stone from the top when I transported it.  See?  I do learn from mistakes!  This lovely lady sold too!
I don't think I can top this post with another table story, so I will end here with this to say.  "I do not literally paint that table, but the emotion it produces upon me." -Henry Mattisse.  (Um….Henry?  I literally painted the table)
I will be table hopping with this post at these fun parties:
Monday: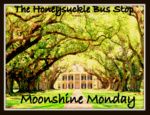 Tuesday:

Wednesday: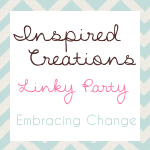 Friday: