It all started about two and a half years ago when I was pursuing a Craig's List ad for a chair.  The route took me through a rather undesirable part of a nearby city.  On my way, I spotted this little French Desk. ON THE SIDEWALK, ALL DRAWERS IN TACT.
It was currently being used as the neighborhood trash can.  Of course I hauled that thing into my car and drove out of there as fast as you know what.  I was so excited, but I was worried I was going to have to wrestle somebody over their trash receptacle.
After a thorough cleaning, (it hadn't been treated so nicely), I painted it in Sherwin Williams Alabaster, and an "I have no clue" silver paint.  I put it up for sale for only a month, it didn't sell.  I decided to take it home for my youngest daughter's room. She promptly turned it into her "art" station.
Last month she decided to remodel her room, moved all the furniture herself, cleaned out the desk and redecorated.  She is 11.  I have no idea where she gets these ideas from.
Lucky for the desk, I now have access to the most wonderful paint.  CeCe Caldwell's 100% natural Chalk and Clay based paints have TOTALLY  changed the way I paint.  No, I did not have to go back and sand the whole thing down.  I did not have to prime, I only had to crack open a can of their new color Chesapeake Blue.  A gorgeous Blue/Grey color, with just a hint of violet. Perfect for Spring.
The inset was painted with Mississippi Mud. The pulls were dry brushed with both colors.  I actually can take very little credit for this desk.  I chose the colors, and my fabulous friend and assistant, "Emma"painted the whole thing!  I love my Emma, I could never go  back to painting all my by lonesome!
I only went in with my sand paper to do a little of the detail work, Emma waxed, buffed it, and I did the pulls. 
It went down to Paris Flea Market this weekend, while I was away at my niece's wedding.  It actually got dibbed by another consignor who is picking it up tomorrow.
I love that my kicked to the curb desk spent some time in our home as an art station, and is now going to another artist.  The consignor purchasing the desk is the same girl who is painting the mural in our new warehouse space, you can read about that HERE.  From trash to treasure, one artist to another.  Junque has a great life cycle doesn't it?
PS I just had to share a couple of photos from the wedding!  My niece was just born when Mark and I met and a baby when we got married.  We feel like she was partly our own child, so this makes it all the more special.
Best friends and cousins, Ali (our recently turned  16 year old) and Britta.  Aren't they both gorgeous?
Britta and husband Travis.  (Back story, our Travis, who is 10 years younger than Britta has always had a "cousin crush" on the beautiful Britta. Only fitting she would marry a Travis!)
Sharing my evolution of la desk at these beautiful parties:
Monday: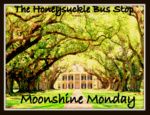 Tuesday:
Wednesday: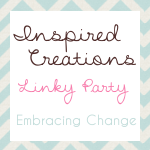 Friday: